ArtByGenève exhibits contemporary art, presented by galleries and artists.
The Geneva based art gallery Artraction shows works by Uta Richter, Pierre E. Terrier, Emmanuel Mottu and Maria Bill.
Please meet Uta Richter and Pierre E. Terrier the 29th of April from 5.30 to 8.00 pm at the stand of the gallery.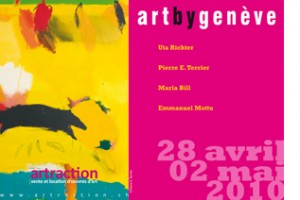 Tags: ArtByGenève, Artraction, Geneva, palexpo, peinting